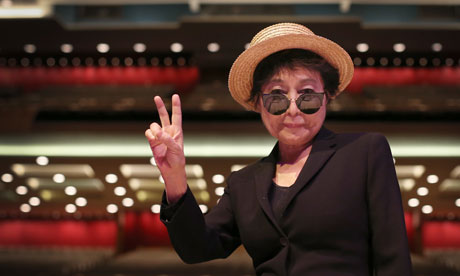 Last Friday I went to see Yoko Ono and the Plastic Ono Band. Yoko opened Meltdown 2013 (which she's curating) with a blistering, thrilling, cutting-edge music-as-art set, which not so much pushed boundaries as ignored them. It's fair enough to say that everyone there was completely enthralled by the whole atmosphere starting before she even came on with moving bottoms on screen. Ono pulled some

cool sh

apes when the mood took her and informed us, perhaps improbably, that "I feel I know you". Her son was also there in the band and did an Eric Clapton guitar solo with his ultra cool girlfriend Charlotte Kemp Muhl Playing the bass,

Japanese musician and producer Cornelius also was playing

. Amo
ung some of the songs she played there was Walking On Thin Ice, a swish reggaefied backbeat; she duetted with Peaches on Yes I'm A Witch and unleashed the hounds on Don't Worry Kyoko (Mummy's Only Looking For Her Hand In The Snow). It was truly an amazing experience.